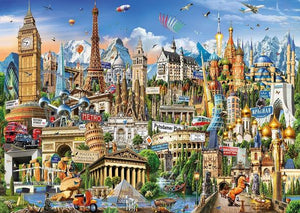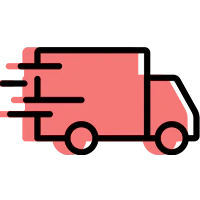 Fast Shipping to:
Your information is 100% secured

Embark on a global journey of architecture with our World Architectural Monument Wooden 1000-piece jigsaw puzzle, meticulously crafted by artist Francis Deroa.

This captivating puzzle encapsulates the creativity of architectural wonders from across the globe within a single painting.

With 1000 intricate pieces, it offers an engaging challenge for puzzle enthusiasts while celebrating the beauty of world architecture.
FEATURES:
Architectural Marvels: Immerse yourself in the world of iconic architectural monuments, all elegantly captured in a single artwork. It's a visual treat for architecture enthusiasts and explorers at heart.



Tactile Satisfaction: Crafted from laminated plywood, the wooden puzzle pieces provide a tactile and gratifying puzzling experience, ensuring durability and long-lasting enjoyment.



Challenge Accepted: With 1000 finely detailed pieces, this puzzle offers a stimulating level of difficulty, making it an exciting pastime for puzzle aficionados and inquisitive minds.



Generous Dimensions: Measuring 20" x 27" when completed, this puzzle showcases architectural beauty in exquisite detail, making it a captivating addition to your collection.



Gift of Inspiration: Share the gift of exploration and puzzle-solving with architecture enthusiasts or those with a passion for world travel. It's a thoughtful and inspiring present for any occasion.
SPECIFICATIONS:
Material: Wooden
Puzzle Type: One Piece (letter zoning)
Size: 50 x 75 cm
Thickness: 2 mm
Piece Count: 1000 pieces/set
Package: Arrives in an elegant gift box
BENEFITS:
Brain Gym: Engage both the left and right sides of your brain simultaneously, enhancing cognitive abilities and problem-solving skills.



Memory Enhancement: Improve short-term memory and boost visual-spatial reasoning, fostering cognitive development in a fun way.



Stress Relief: Puzzles serve as a therapeutic tool for relaxation, promoting tranquility and reducing stress.



Family Connection: Strengthen bonds with family members as you collaborate to complete the puzzle, creating cherished memories together.



Solo Exploration: Enjoy moments of solitude and concentration as you immerse yourself in the puzzle's intricate details.



Health Benefits: Regularly solving puzzles is not only enjoyable but may also contribute to a longer, mentally stimulating life.


PUZZLE COMPLETIONS TIME:
On average, plan for a puzzling adventure lasting between 3 to 10 hours, with completion time varying based on factors such as puzzle complexity and individual skill level.