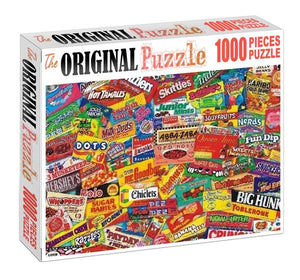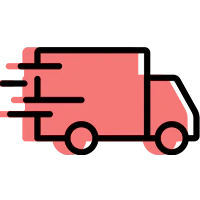 Fast Shipping to:
Your information is 100% secured

Indulge in the world of sweets with our Candy Packaging Collection 1000-piece wooden jigsaw puzzle, a delightful creation by artist Francis Deroa.

This charming puzzle portrays a colorful array of candies, perfect for those with a sweet tooth or playful kids seeking a fun challenge.

Dive into the world of confectionery as you piece together this vibrant masterpiece.
FEATURES:
Candy Wonderland: Immerse yourself in a whimsical world of candies, as each piece of this puzzle beautifully captures the allure of various sweet treats. It's a visual delight for candy enthusiasts of all ages.



Tactile Engagement: Crafted from laminated plywood, the puzzle pieces offer a tactile and satisfying puzzling experience, ensuring durability and long-lasting enjoyment.



Challenge Accepted: With 1000 intricately designed pieces, this puzzle provides a stimulating level of difficulty, making it an engaging pastime for puzzle enthusiasts.



Generous Dimensions: Measuring 20" x 27", the completed puzzle displays your favorite candies in stunning detail, making it an eye-catching addition to your collection.



Gift-Worthy: Share the joy of sweet discovery by gifting this puzzle to candy lovers, friends, or family members. It's a unique and thoughtful present for any occasion.
SPECIFICATIONS:
Material: Wooden
Puzzle Type: One Piece (letter zoning)
Size: 50 x 75 cm
Thickness: 2 mm
Piece Count: 1000 pieces/set
Package: Arrives in an elegant gift box
BENEFITS :
Brain Gym: Engage both the left and right sides of your brain while piecing together this delightful puzzle, enhancing cognitive skills.



Memory Boost: Improve short-term memory and sharpen visual-spatial reasoning, making puzzling a fun and educational experience.



Stress Relief: Puzzles offer a relaxing and meditative way to unwind, reducing stress and promoting tranquility.



Family Bonding: Strengthen connections with your loved ones as you work together to complete the puzzle, creating lasting memories.



Solo Escape: Find solace and focus in solitary puzzling sessions—a perfect way to unwind and concentrate.



Longevity: Regularly engaging in puzzles promotes mental well-being and can contribute to a longer, fulfilling life.
PUZZLE COMPLETION TIME:
On average, expect to spend anywhere between 3 to 10 hours assembling this 1000-piece wooden puzzle, with the completion time varying based on factors like complexity and skill level.
Dive into a world of sweetness and challenge your puzzle-solving skills with the Candy Packaging Collection puzzle—a delightful gift that celebrates the joy of confectionery and puzzling enjoyment!